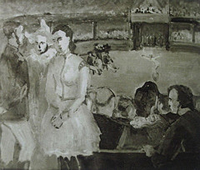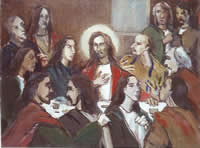 Media - Paintings
Website - www.guyhuygens.be
Guy Huygens is a Belgian Painter. He Studied at the Beaux Arts Academy of Brussels under the guidance of Leon Devos.
His predilections subjects are : 1.Mystical (La Rssurection, 1944-Le Martyr de San Sbastien, 1945 Le Jugement Dernier, 1945-Les Plerins dEmmas, 1948). 2.Landscapes( Rue Duquesnoy, vue du Mont des Arts, 1949(prix donnay)-Le Petit Chemin (1979)-Deep Forest, 1992- Devant la mer(1994, ) 3.Portraits ( Auto-portait, 1948-Le Portrait dun rveur, 1950 la petite fille au ruban rose, 1997 - Blue Lady, 1971-) 4. Jazz ( Charleston, 1978 Concerto for Cootie, 1989 Body and Soul, 1991 Jazz Quartet, 1990-Jazz June Jette, 1996, ) 5.Western ( La Fin de Crazy Horse, 1958-Le Massacre de Sand Creek, 1965-Le Roi de la Prairie, 1966-Custer Last Stand, 1975-Aprs la bataille, 1979 6.Miscellaneous( Le Dernier Carr, 1950-Jour de March (1959)-Bouquet de Printemps, 1993-La petite sirne, 1993, ).
He has appeared in more than 100 hundreds press articles. (Het Laatste Nieuws, Croquis, De Zweep, La Libre Belgique, De Standaard, Le Soir, La Meuse, Le Rappel, Journal De Charleroi, De Ruilpost, Tlpro, Le Soir Illustr, Pourquoi Pas ?, Cahier Jeune Presse, La Lanterne, LEcho du Crdit LIndustrie, Le Patriote Illustr, Rainbird Info, Le Journal des Collectionneurs, Vlan, Femme dAujourdhui, La Dernire Heure, Elle, Dimanche Presse, etc) Also he participated in various radio (R.N.O., R.N.B, Radio Cannadienne, ) and T.V. (R.T.B.F, RTL-TVI, V.R.T, )programs.
He participated also in various exhibitions : (Galerie Slection, Athne Royal de Bruxelles, Galerie lEcrin dArt, Galerie St Laurent, Cercle dArt Artal, Galerie Le Parc, Galerie La Rose de Saron, Galerie Tamara Pfeiffer, Cercle priv Touch and Go, Westland Shopping Center, Atelier Slection Duvres, Monkey Business, Crdit lIndustrie Wolvendael, Exposition Jette, Les pcheries, Salon des 3 Arts, Art Jeune, Galerie Lopold, Salon des Laurats, Peintres de la Commune, Chateau du Karreveld, Salon de lAcadmie, lArt Molenbeek, hier, aujourdhuiet demain, Chteau du Karreveld, etc A Film : The Passion for Western America was realised about him by Jean Dlire and Maurice Beerblock, with the participation of MORRIS(creature of Lucky Luke).Realised by R.T.B.(R.T.B.F) A book was written about him : A Propos de Guy Huygens written by Paul Caso, Robert Goffin-Maurice Lambilliote, Marcel Lecomte, Jan Walravens et Joseph Weterings.
Even the famous french T.V.presentator of TF 1, Patrick Sabatier invited him for one of his show. Also, Web site was also created about his painting career : www.guyhuygens.be During his career, he received many prices: the Prize Donnay , 1st prize Nature painting -Composition, Prizewinner Young Art , .etc And the title Officer of the Order of the Crown for his career as a Painter. a unusual Generator of dreams, a great genuine figureit is with these words that the Poet Robert Goffin like to describe him.