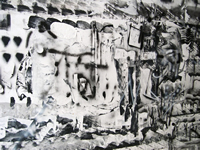 Media - Painting
Email - patomorenot@gmail.com
Website - www.patriciomorenotoro.com

Toro began his art career as a self-taught watercolorist, selling his work at prestigious galleries in Santiago and the annual Parque Forestal where one of his first steady customers was Dr. Salvador Allende, who later became president of Chile. At the age of 16, he was in his first solo show at Sala de Exposiciones de "El Diario Ilustrad" in Santiago.

In 1963, he exhibited solo at Galerie de Arte Taller 13 in Santiago and that same year, at age 19, he won the coveted gold medal in watercolors in a national contest which was awarded during a ceremony that took place at the National Museum of Fine Arts in Valparasio, Chile.

During these early years, he worked prolifically, mastering watercolor techniques. Touted in Chile as the "Golden Boy," he received excellent critical reviews and national prizes for his work in watercolor.

In June 1966, at the age of 22, he embarked on a solo voyage to Europe, leaving behind a young wife and a newborn son, in search of culture, new ideas and the possibility to enrich his art. He left the port of Valparaiso on a ship called the Donisetti destined for Barcelona, Spain. Arriving in Spain a month later, he remained in Barcelona for the next two month and through a set of extraordinary circumstances met one of Spain's foremost painters , José Guinovart, and his wife at the time, Maria Antonia, through a mutual friend, Chilean poet, Nicolas Martin. He lived with the couple for a few weeks and Guinovart helped him sell a few watercolors to earn his train fare to Paris.

In France, Toro lived in cheap hotels or crashed in the homes of vague acquaintances while he tried to sell his art. After a few precarious months, Nicolas Martin introduced him to Chilean painter, Roberto Matta, then living in Paris. Matta took the young Toro under his wing, introducing him to French philosopher, Andre Breton, who at the time was on his deathbed. Through Matta, he also met artist, Max Ernst, and accompanied the two to galleries and the opera. For a few months he became Matta's assistant, friend and disciple. From the maestro he learned the "whys" and "why nots" of painting, the purpose of drawing a line, and the concept of generosity in art. Matta told the young artist (as told in Spanish loosely translated): "If generosity isn't spontaneous then it becomes impossible to mold whatever it is you are trying to achieve in art. Don't forget that the main ingredient of art is giving!" During the last couple months that he stayed in Paris, Toro had the pleasure to serve as a personal caretaker for Matta's son, Jean, a talented illustrator in his own right.

From Paris, Toro traveled to and lived in Hamburg, Germany for a couple months, but was uninspired. From Germany, he traveled to Italy, arriving penniless in Rome in the dead of winter, January 1967. In Rome, he immediately sought out director, Roberto Rosellini, whom Toro had met at a party in Santiago two years earlier when introduced by a friend and collector of his watercolors, Ines Peretti. Toro has obtained Rosselini's personal contact information when he arrived at the Santiago party, watercolor in hand to give to the director whose work he greatly admired.

Toro stayed in Italy for eleven months, earning money and favors by trading his paintings and acting as an extra in Rosselini's documentary films and several other feature films, including spaghetti Westerns. During this time in Rome he met Inger Falck, who would later become his second wife. Together the two left Italy in December 1967 and hitchhiked to her home in Sweden.

Settling together in the small village of Strassa, Sweden, Toro began painting large canvases in oils, experimenting with hexagonal -shaped canvases and new abstract forms. Within a month the city of Norastad bought one of his first large oil paintings and Toro's career as an international artist blossomed. At one of his early exhibits in Sweden, he met the artist, Alf Olsson, with whom he would establish a life-long friendship. Olsson contacted Leif Nielsson, who owned several galleries in Sweden and Denmark. In 1970, Toro produced seven shows in Sweden and Denmark, showing at the Prisma Galleries in Stockholm, Copenhagen, and Sundvall and at the Aguélimuséet in Sala. By sheer coincidence, his mentor Roberto Matta, who was showing simultaneously at the Moderna Musset in Stockholm, attended Toro's opening, heaping praise on the younger man.

Upon hearing of the death of his mother, in September 1970, Toro moved back to Chile, arriving the day before Salvador Allendes' election in time to cast his vote. He and Inger rented a small house in Santiago and Toro set up a studio on the upper floor. At the time, his friend and mentor, Nemesio Antúñez was the Director of the National Museum of Fine Arts in Santiago. He offered Toro the honor of representing Chile in the 1972 Paris Biennale and a solo show at the museum. One of the paintings that Toro entered in the Biennale was acquired by Pablo Neruda who donated it to the Chilean Embassy in Paris.

His 1971 show at the National Museum of Fine Arts in Santiago opened to critical acclaim- large oil paintings of skinless figures both in repose and in motion, organs and intestines prominently exposed, raw as if post-autopsy- as if the paintings were made through a time-traveled partnership between Damien Hirst and Francis Bacon

Several months before the September 1973 coup d'etat against President Allende, Toro left Chile again this time with his new wife, Inger, and his seven-year-old son, Gabriel, in tow. The family lived in Sweden until 1974 when they made their way through Europe, settling first in Barcelona and then in nearby Sitges. During these years, Toro produced a large number of paintings that were acquired and shown by Miguel Gaspar, co-owner of Sala Gaspar in Barcelona, one of the oldest galleries in Spain that also showed the works of Picasso, Dali, Gris, Miro and other famous moderns, and the emerging artists of the time, like Bartolocci. In Sitges, Toro reunited with his mentor Nemesio Antúñez, then a political exile from Chile. José Donoso, a writer and also a Chilean exile, wrote Toro's catalogue for his show at Galeria D'Alaro in Sitges. During this time, Toro occupied the former studio of impressionist painter, Claude Monet.

Separating from his second wife, Inger, in 1976, Toro traveled to England and lived in a small town near Oxford, continuing his painting for five months. From there he traveled to Capetown, South Africa where he continued to paint and show his work. In 1977, Toro arrived in Israel where he had a show at Delson Richter Gallery in Jaffe. He stayed in Israel for seven month where he met sculptress and art patron, Ilana Goor. It was through Ms. Goor that he received an invitation to show his work for the first time in the United States. In 1978, he had a solo show at the Museum of Science and Industry in Los Angeles, California.

He stayed in Los Angeles, becoming involved in the fashion and film industry after he met his third wife, designer Constance Rivemale. In 1981, he exhibited in a two-man show with artist, Chris Burden, at the Los Angeles Museum of Art. He left Los Angeles in 1982, moving to Berkeley, California where he continued to paint and show his work.

In 1983, he met African-American artist Mary Lovelace O'Neal, an internationally known artist and art professor at University of California, Berkeley. They became friends and professional colleagues and eventually married. Living in Oakland, for a time Toro worked in the studio of artist, Oliver Jackson, and taught for a semester at California State University-Sacramento while Jackson was working in Carrara, Italy. It was there that Toro began to paint large unstretched canvases and the Terra Nostra series was born.

The next turning point in Toro's career was when he met Rolando Castellón, the former curator of the San Francisco Museum of Modern Art and later the Director of the San Jose Museum of Modern Art and Design in Costa Rica. Curating a traveling exhibition of Bay Area Chicano and Latin American artists entitled Mano a Mano in 1988, Castellón asked Toro to participate. In the show's catalog, Castellón wrote: "The content of Toro's monumental work communicates his interest in the elaboration of abstract impressionistic forms and deals with different aspects of the flora in his native land. This work does not reflect nature in the way we know it, but rather as he perceives it: a monochromatic metaphor in brown, black, or gray, that reveals obscure passages symbolizing the human chaos and the dark political cloud which envelop current political activity in Chile. The implication of this symbolism is not literal although sometimes his work may contain delineated human figures in a violent context. The application of the pigments on the canvas is free and energetic. His colors create a visual cadence of counterpoint which encourages the spectator's eye to observe the details enhancing the totality of the work. The smell of burnt soil emanating from the pigmentation and the damp sinuosity of a nature devoid of sunlight characterizes Toro's enigmatic and aggressive work. Contained within the work, too, is the intensity and the strengths of his idea and feelings." Mano a Manorotated with major success to the Modern Museum of Art, Santa Ana California, the art museum of Santa Cruz County (California) and the Oakland Museum in Oakland, California.

A couple years later the Oakland Museum exhibited Oakland's Artists '90. Writing for Artweek in May 1990, critic Mark Van Proyen reviewed the show: " Because of the number and diversity of the work it is impossible to do critical justice to every artist included. Although the majority of these are of the emerging ilk, there are a few who have well-established reputations and can pass without further comment, such as Bruce Beasley, David Bottini, Squeak Carnwarth, Viola Frey, Rupert Garcia, Mike Henderson, Tom Holland, Marilyn Devine, Richard McLean, Mel Ramos, Raymond Saunders, Carlos Villa and Peter Voulkos. … Many of the other artists included in Oakland's Artists '90 favor a large scale as a basis for their expressive adventures. The largest and most ambitious painting in the show is Patricio Toro's Machu Pichu(1986-1987) and by my reckoning it is also the best."

In 1991 with his wife, Mary Lovelace O'Neal, Toro curated and participated in the first exhibit in Chile of African Americans and Latin Americans living in the USA. The show was at the National Museum of Fine Arts in Santiago and met with great success, selling the most tickets to that date for the venue. Toro returned to Chile in 1992 for a major exhibit of his work at the Instituto Chileno Norteamericano de Cultura.

Throughout the 1990s and early 2000s, Toro continued to travel and show his art work, living for short periods in Senegal, Morocco, Egypt, Turkey, and Yugoslavia, among other countries, and settling to live for a year in Paris. His work was represented in the Triennale Mondial De L'Estampe Petit Format, an exhibition that traveled internationally from Paris to museums throughout Europe, in 1994 and 1997.

Diversity was curated in 1997 by Toro's long-time friend, Peter Selz, professor emeritus of the History of Art at the University of California, Berkeley; founding director of the Berkeley Art Museum; noted art historian and a former curator of the Department of Painting and Sculpture Exhibition at the Museum of Modern Art in New York. Toro exhibited four 10x10 foot canvases in the show at the Hugo de Pagano Gallery in New York. Of Toro's work, Mr. Selz wrote: "His work is informed by the biomorphic fantasy and automatic procedures by his compatriot Matta, by the non-traditional working processes and use of materials by Andre Masson, de Kooning's great visual energy and the powerful shadows of Caravaggio's paintings or the turmoil in Turner's paintings. His large unstretched canvases of theTerra Nostra series were painted on the studio floor with rags, sponges, rollers and hands. Although done with almost visceral spontaneity and without preconceived ideas, they have narrative structure beneath their chaotic appearance. They suggest fragments of human heads, birds, and all kinds of natural organic forms, as well as the color and sensations of the Chilean landscape. The color-flux of these paintings also evokes nocturnal views of natural cataclysms. These large Action paintings are like the acrobatic feasts of well-honed gymnasts which results in the appearance of easy maneuvers. They are explorations by the artist enacted during the painting process and stand as vindications of Abstract Expressionism or Tachism at a time when such styles are no longer part of the Postmodern trends."

In June 1997, a premier public exhibition of fourteen museum quality screen prints by major artists was shown at the Bomani Gallery, owned by actor Danny Glover, in San Francisco. The exhibit was in celebration of the centennial of American hero, Paul Robeson. Toro was one of the twenty-three artists and writers represented in the show and in the limited edition publication, Freedom Or Slavery: The Paul Robeson Portfolio published by Alliance Graphics (Berkeley, Calif.) in 1998. Profits from the sale of the portfolio benefited the Middle East Children's Alliance. The portfolio was acquired by several educational institutions including the Smithsonian in Washington, D.C. The Introduction to the portfolio by Howard Levine of Alliance Graphics provided this analysis of Toro's work: "The legacy of slavery is central to Ascención by Patricio Toro… Toro's abstract work swirls and distorts the schematic, perhaps reflecting how slavery itself has twisted the lives of African-Americans ever since."

In 2005 Toro returned to Chile to seek medical care for cancer, staying mostly in his studio in Concón, Chile, and intermittently traveling back and forth to California. During these years he created the Malabaristas Manuales, a controversial series of etchings and paintings, work that explores the core of sexuality.

During one of his sojourns back to California in 2010, Toro participated in the Rehistoricizing project spearheaded by artist and Guggenheim Fellow, Carlos Villa. As part of this project he gave an extensive videography of his history in, and impressions of, the art world. As part of this project he showed a piece in a group exhibition of artists at the Luggage Store Gallery in San Francisco, California.

He returned to California in 2011 for a successful round of treatment for recurrent cancer. He currently divides his time between Oakland, California, Nayarit, Mexico, and Concón, Chile, working collaboratively with California attorney and artist, Elizabeth Saviano.

Toro's work is currently represented in the traveling exhibition We Are You Project International. He was selected to participate in 2012 as one of the most prominent Latin American artists living in the United States. Of Toro's work represented in the exhibition is this summary:

"Chilean-born artist Patricio Moreno-Toro's image entitled Sud Africa metaphorically examines South Africa's late-20th Century human rights struggle against apartheid. This insightful and expressive work emotively measures the "real" cost of civil rights, human rights, the right-to-vote, and other prerequisites of a free-society, gauging the price of these rights in terms of freedom and death. Today, as state-after-state passes unjust laws that diminish the Constitutional rights of Latinos, Toro's 1988 image holds direr and prophetic 21st Century warnings, presaging Latinos living in Alabama, Arizona, and other states where Latino civil-liberties are currently unfairly trampled.
German phenomenologist Martin Heidegger argued that real "freedom" necessitates a deep meditation (or direct confrontation) with death. According to Heidegger, only a face-to-face awareness of death can breed authentic-freedom (accounting for an innate or inherent sense-of-freedom within each human being). Heidegger's ideas are almost identical to those of Federico Garcia-Lorca's Theory of the Duende (1933), ascribing a "here-and-now" (present) confrontation with Saturnal Death as the source of the rarest and most precious form of artistic creativity: duende ("WHAT IS DUENDE" http://duende-art.com/page1.html), which signifies a mano-a-mano encounter with Death, prompting true FREEDOM and mega "creativity." Thus, this unique yearning for Thanatos ("death") ultimately inspires or provides in all freedom seekers a selfless willingness to die for freedom. This inimitable "freedom/death" matrix places a fearless Rev. Dr. Martin Luther King, Jr. at the head of a dozen perilous US Civil Rights protests against segregation; as well as rousing César Chávez to form a Chicano migrant-workers' union (the National Farm Workers Association (NFWA)) to fight for "La Causa" the rights of Latino workers, by his organizing intrepid "huelgas" against large commercial fruit-grower conglomerates, or causes the heroic Nelson Mandela to rise-up against injustice in South Africa, risking everything for the sake of FREEDOM.
In Moreno-Toro's 1988 Sud Africa, the above-described Heideggerean amalgam of Thanatos and Liberty is reflected in the monotype, echoing events that occurred in South Africa in 1988, where bombs exploded (each day) throughout the nation, filling rooms with smoke and death, escalating an anarchic national-crisis, resulting in the 1990 liberation of Nelson Mandela from prison, as well as in 1993, termination of South Africa's official racial-apartheid system. In this light, Toro's duende-filled monotype offers an image of a televised news-broadcast wherein a glib TV "talking-head" is suddenly caught within a contiguous explosive "push-pull" milieu, asserting an organic-abstract Neo-Surreal and Informalist composition that indirectly alludes to frenetic black-&-white Surreal images painted by Toro's fellow Chilean artist, Roberto Matta Echaurren.
Through his virtuoso monotype image, Toro simultaneously melds or fuses a real-time TV newscast with a "just-detonated" actual NEWS-event vividly occurring before shocked-viewers gathered-around a levitating TV-set! These blown up highly-abstract viewers are reminiscent of humanoid beings that haunt the contemporary art works by Jorge de la Vega, Luis Felipe Noé, Jacobo Borges, Luis Caballero, and other late-modern Latin American masters of Neo-figuration.
Toro's 1988 monotype affords many helpful lessons about how disenfranchised people can begin to resist oppression. Due to the bevy of harsh 21st Century anti-Latino laws rising in Arizona, Alabama, and other states, the above-described listing of late-20th Century socio-political struggle(s) are important today, because the We Are You Project provides a modicum of hope against the onslaught of ethno-racist prejudices, unjust laws, and other rightwing affronts currently aimed at Latinos.
A student of acclaimed Chilean artist Nemesio Antúñez in Santiago (Chile), Toro has lived and worked in Paris (France), New York City (NY), and currently resides in Oakland (CA). Technically, Toro's monotypes owe a great deal to the late-African-American printmaker Robert Blackburn's acclaimed Printmaking Workshop, New York City (NY). In 1992, curator Rolando Castellon stated, "The implications of Toro's symbolism is not literal, although sometimes his work may contain delineated human figures in a violent context."