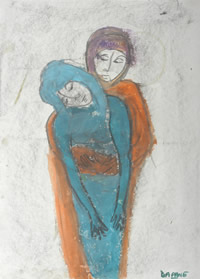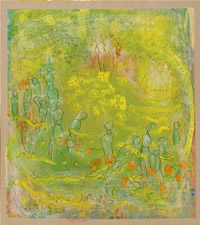 Media - Mixed Media
Phone - 718-710-5181
Email - rozjosephgroup@aol.com
Website - www.daphneanastassiou.cl
Daphne is a creator, a painter of dreams. Her unique work emerges from a journey of self exploration. A trained and active psychologist, Anastassiou credits the dualities of emotions emitted from the universe and the complexities of the human condition as her inspiration and at the nucleus of her work.
Anastassiou uses the tools of painting to start a dialogue with herself, resulting in pictorial conversations created between the hazy border of physical reality and the invisible world. Her compositions amass a confluence of sensations and characters, intertwined in ritualistic, dreamlike patterns and sensual hues.
Daphne Anastassiou M. was born in Viña del Mar. She lives and works in Santiago, Chile. Daphne attended both Villa María Academy (Chile) and the Community School of Athens (Greece). She completed higher education at Alvescot College (England), Pierce College (Athens, Greece), and the Pontificia Universidad Católica de Chile, where she obtained a degree in Psychology in 1980.

Anastassiou founded and currently directs private practice through "Daphne Anastassiou Consultores Ltda." and "DA Capacitación S.A., advising companies such as Banco Edwards, 3M, Bellsouth, Banco de Chile, Atento, Weg Chile, and Minera Los Pelambres on the development of human potential. Her workshops and motivational events cover a wide range of issues that affect the human condition such as stress management, leadership, emotional intelligence and creativity. Her state-of-the-art methodology and important treatment tools are characterized by humor, creativity, and making contact with one's feelings.