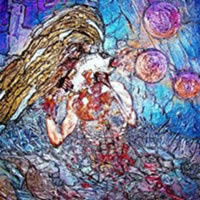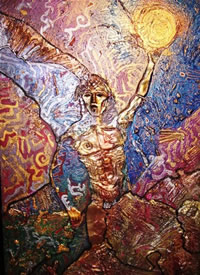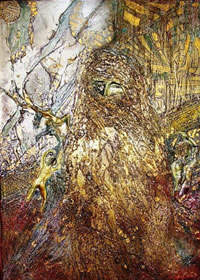 Media - Technique on Canvas Bas
Address - via piandelmedico 38, Italy
Email - bobmoney@hotmail.it
Website - www.bobmoney.biz
BOB MONEY was born in Stuttgart in 1965 began his studies in \'school of art of Ancona. Later at the sculpture Carrara .In 1986 his passion for music led him to enroll at the Conservatory Gioacchino Rossini in Pesaro, graduating in piano com. French horn, and in 1996 joined the FORM where he still works as a professor Orchestra. While exercising a profession fascinated not abandon the arts and in 2000 opened a circuit of shows in Italy and abroad as emerging contemporary painter. In 2008, discovered the technique on canvas bas fruit of years of testing for strength and lightness of the materials, the idea is that the fabric forming a three-dimensional projection on the observer and that every prospective reflections of colors are always several. His works are found in Belgium, France, United States, Brazil, Germany, Israel. Italy. He currently lives and works in a farmhouse in the countryside in Jesi.