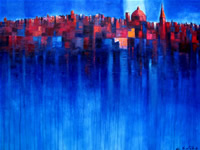 Media - Oil, Acrylic Paintings
Address - Villa San Blas, San Blas Road
Nadur, Gozo, Malta
Phone - 00356 79069325
Email - christophersaliba@gozo-art.com
Website - www.gozo-art.com
Christopher Saliba holds degrees in Art from the University of Malta and the Accademia di Belle Arti "Pietro Vannucci" in Perugia. During his four-year scholarship at the Accademia, Saliba participated in important artistic projects; he displayed his grand scale paintings in several collective exhibitions and produced various installations and videos.
Christopher Salibas approach to art is quite versatile and painting is just one medium in his repertoire of artistic creations. Sculpture, printmaking, photography, installations and video are also valid means which enable him to express his thoughts and emotions. His work tries to reveal the complex nature of the human being as well as the primordial link between mankind and the natural environment. Being a native of Gozo - a very small island situated at the centre of the Mediterranean Sea - explains his interest in expressing symbolically the spatial and physical limitations that people living in confined spaces have to endure.
Christopher Saliba exhibited several times in different countries like Italy, England, France and Malta. Recently, he participated in an international exhibition at the Louvre Museum in Paris. His works are found in numerous art collections in Europe, Japan, Canada and the United States as well as in the permanent collections of important art institutions, namely the Accademia di Belle Arti, 'Pietro Vannucci', in Perugia, the St. James Cavalier Centre for Creativity and the Museum of Fine Arts in Valletta, Malta. Essays and reviews about Christopher Salibas work feature in several local and foreign publications, the latest being Cross-Currents: Critical Essays on Art and Culture in Malta.