Origami is the traditional Japanese art that has been popular ad carried forward in the Japanese culture for centuries. It is the ancient art of folding paper. The roots of Origami can be traced to Japan and China. In recent years, this art has gained popularity among the world as a hobby.
This is especially because not only is it good for killing time, it also has documented benefits on the human brain. Origami actively engages children and upgrades their skills, including spatial perception and logical and sequential thinking. In this article, we will discuss the benefits of Origami. 
If you are interested in making an origami-like origami crane, then you would love Origami. They have the largest online database on Origami. No matter whether you are looking for crease patterns or video tutorials, their database is sure to help you in your origami pursuit. Their website will make you an origami master. 
Reasons Why Origami Improves Students' Skills
There are many benefits of Origami. Here is a list of common benefits of Origami. 
1) An art form of all subjects – it has been shown by research that Origami can be used in numerous ways to enhance the methodology of teaching and make the lessons more lucid and understandable. Origami can be used in teaching geometry, fractions, fun science, fractions, and enhancing thinking skills.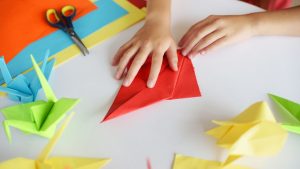 2) Children love it – the infatuation of children with their paper planes cannot be described without exaggeration. It is a very revealing thought that Origami surrounds us in a great manner. The envelope that we use, the paper fans which are the rescue of untimely electricity cuts in summer nights, shirt folds, all of these are Origami. 
Origami comes into use in daily life. The above examples are a testament to this averment. According to some researches, those children who perform Origami are better at math. The art form is beneficial in enhancing mathematical dexterity. 
3) Origami is a steam engine –Origami is the melting pot of all other disciplines, and that is why it is referred to as a steam engine. Origami is already incorporated into solving complex technological issues. How do you think have engineers managed to fit giant airbags into small pouches? It is by the grace of Origami. 
The examples of Origami are replete. There are many species of beetles that have wings that are bigger than their own body. They can fit these wings with the help of Origami. This pattern is not limited to insects. Flower buds and leaves are intricately folded before they turn into a flower and a mature leaf, respectively. 
Thus, we can conclude that the study of Origami will help students in their studies in the advanced years of their life.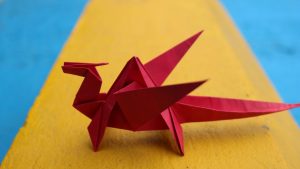 4) Motor skills – while performing Origami, the fingers are required to make specific shapes. This will enhance the ability of fingers to perform finer detailed work with great dexterity and ease. 
Conclusion
There are many benefits associated with Origami. People in the olden days performed this art, and it has been one of the reasons for their excellence.