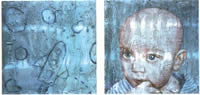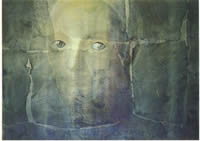 Media - Mixed Media
Website - www.chrisbanahanportraits.com
Email - oscarbanahan@eircom.net
RECENT PAINTINGS HAVE BEEN CONCERNED WITH PORTRAITS OF CHILDREN .THE SURFACES HAVE AN 'ANTIQUE' [AGED APPEARANCE],THAT REFLECTS THE FRAGILITY OF LIFE.THIS CONCEPT DEVELOPED THROUGH BEING INFLUENCED AS A ROME SCHOLAR ,BY ANCIENT ROMAN [FUNERAL MASK ]PORTRAITS OF CHILDREN FROM POMPEI.

Qualifications;

FIRST CLASS HONS' B.A.[1981]
Trent University,Nottingham .

M.A.Goldsmiths'College,London University [ 1984].

Rome Award in Painting,
British School of Rome [1990/1].

Exhibitions;

'CONTEMPORARY ART FROM IRELAND'
European Central Bank,Frankfurt,Germany,2005.
Solo Exhibitions,Hallward Gallery,Dublin,1999,2001,2003,2005.
Solo exhibtions,Barbara Stanley Gallery,London,2003,2007.
solo Exhibition,Jo Rain Gallery,Dublin,1997,1998
Solo Exhibtion,Sue Williams Gallery,London,1989,1990,1994.
'6 X 6 'Irish ART,411 Galleries,Shanghi and Beijing,China.
'irish Art'Vine Gallery,Louisville,Kentucky,U.S.A,2000,2001 AND SOLO 2002.
'Salon 2000'Limer Gallery,New York.
'Spiritual 99',Period gallery,Nebraska,U.S.A.
'Irish ART'Turner Carrol Gallery,Santa Fe,U.S.A.1998-9.
'METAPHOR FOR lRELAND'Boston University 1997.
E.V. + A,Limerick, 1998 and 1995.
'Art of the State'O.P.W.Collection,Dublin Castle,and Louvern,Belgium ,1996.
'Olympia 90'international arts fair,London.
'2oth Century British ART fAIR'CUMBERLAND Hotel,London,1988.
'Contemporary Arts Society Fair'Smith's gallery,London 1989,86.
Whitechapel Open' London 1984.