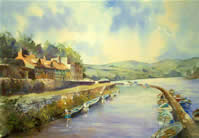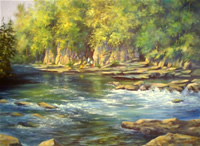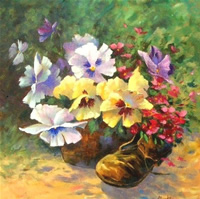 Media - Watercolour, Oil, Acrylic
Address - Basement Studio 98, O, Connell St
Limerick, Ireland
Phone - 0035361 225207
Website - www.artannemarie.com
Email - artannemarie@eircom.net
Inspired by light, Annemarie works as a professional painter, tutor, and demonstrator.She has had many successful exhibitions, both at home and abroad, and her work is to be found in many private collections worldwide.

Annemarie is also a Director of Gallery 75 Limerick and a
Professional Associate of the S.A.A. London

Annemarie is available to demonstrate to, or tutor interested groups, in Watercolour, oil, or acrylic painting.
Annemarie believes that painting should be fun, and inspiring, her enthousiasm is infectious, and her love of painting tangible.

She is a regular tutor in Provence at Les- trois-puits, a magical place near Nimes. Further info from www.les-trois-puits.com
She teaches 4 courses , two in June ,and two in September

Do come along and join in the fun.