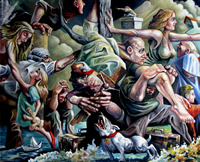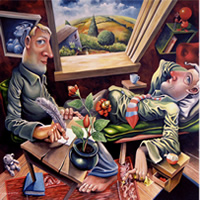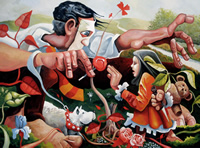 Media - Oils and Acylics
Phone - 098 42135
Email - pat@handeyestudios.com
Website - www.pattracey.com
Pat Tracey was born in Westport in 1959.Because of the economic situation in Ireland his family moved to London then Birmingham before finally settling in Manchester, England. They returned to Westport in 1973 and Pat continued his schooling in the CBS.

He attended Galway RTC between 1980 and 1984 obtaining a Diploma in fine Art with credits. Between 1985 and 2000 het worked as a graphic designer for Cashin Print (3 years) and Berry Print Group (12 years) His ability to illustrate was a great bonus to both companies. In 2000 he started his own business illustrating for the building and pharmaceutical industry while also designing logos, brochures, books etc...for many businesses throughout the region. It was in 2000 that Pat began
his love of painting once again and to date has had great success!
"Lovers of Art and those who appreciate individualism will enjoy the work of Pat Tracey. His innovative works have been described as provocative, compelling, quirky and distinct. His painting hang in several locations in England, France the USA and also across Ireland. Many of Mayo's well-known hostelries also have his work on display"

"Upon a recent visit to Pat Tracey studio this reporters imagination ran away with itself, mesmerised by the compelling nature of his highly diverse work. This is far from the art one would normally be accostomed to.It was edgy, daring, laden with possible allusions and dripping with the broadest spectrums ofemotions. Each picture throws up pathos, humour, a sinister side, happiness, love, mystery, relaxation, tension, loss, curiousity, innocence and yet an intense knowing."

Ruth Feeley - The Western People