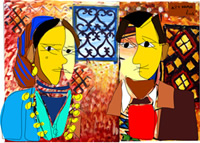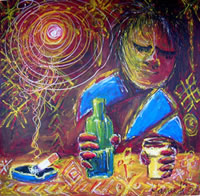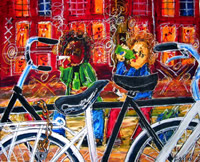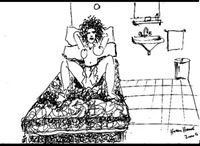 Media - Acrylics
Address - Amsterdam, Netherlands
Email - hassan_hamdi@hotmail.com
Website - www.hassan-gallery.com
HASSAN HAMDI

Hassan Hamdi (Ait Hamdi) was born in 1973 in Tinejdad Morocco.
He studied in the fine arts school "Ecole des Beaux Arts de Casablanca" from 1992 to 1996. Has lived and worked in the Netherlands since 2000.

Through intimate scenes of everyday life, the paintings tell stories of relationships between people.

Sometimes tender and sometimes bitter, they journey through the universal themes of loves, loneliness, nostalgia, happiness and peace.

The timelessness of these themes is expressed through a mixture of modernity and traditions. The modern style expresses instability and movement While the presence of symbols and warm colours.

Everything is based on a struggle of balance and imbalance between soothing rounded shapes and destabilizing broken lines, between shaded backgrounds and precise lines.

This dance between colours, shapes and symbols illustrates scenes with which anyone can connect.