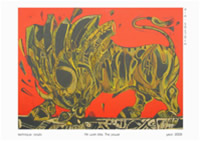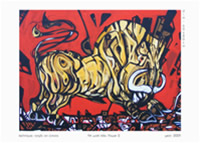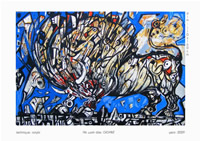 Media - Paintings
Website - www.artmajeur.com/markogavrilovic/
Artist statement
In 2004 I was commisioned to design interior for offices,private houses, flats, etc, but my interests of artistic design grown deeper than that.
To connect modern in art, sculpture and design, for me it is goal yet to achieve.
Most influence on me was made with simplicity of artworks in sculpture ( Rodin, Brancusi ), from there it is a quest to discover assence of fullnes.
Possibilites of making lines on sculptoral objects, specialy in plastic modeled shapes occupy me.

As a painter I'm looking for movement, and lines in action.
That goes from total chaos, to still but vibrant figure.
Bulls as a simbol of unrestricted nature with no laws, and limitations, with his position of impact, he is very serius but also dignified.
Judging by his neck ( filled with buildings of our progress ) we cut in some marrow witch is beyond our control. I want that toxic waste, global heating, industrial simbiosis, stops their course, even if it could be only on this canvas.
The line never stops, line in motion never rests.
One day, I will make perfect drawing with one single stroke, with one continius line.

My efforts goes in that direction... with my hopes to succeed.