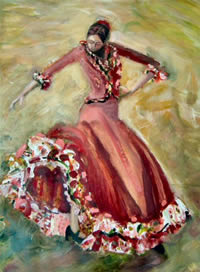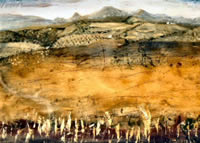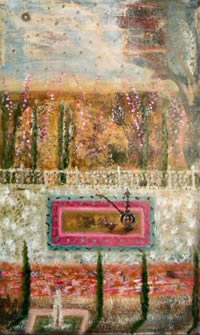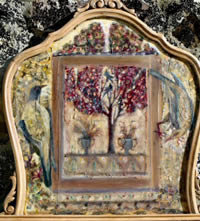 Media - Oil Paintings, Acrylics, Mixed Media
Address - Cortijo Del Cerro, buzon 8,
Villanueva De la Concepcion, Malaga
29239, Spain
Phone - 647888158
Email - nalini1@telefonica.net
Website - www.picassomio.com ; www.saatchi-gallery.co.uk
My name is Nalini Cook. I was born in June 1949 in Kingston-upon Thames in England.My father is Sri Lankan. I worked in England as a teacher, lecturer and inspector of arts and combined this with developing my work as a painter. I relocated to Spain in 2002. I am now a practicing artist in Andalucia.
I consider myself a truly international artist. I have exhibited all over Europe and my work is represented in private collections across the world. I exhibit regularly with other artists and was for many years in England a selected artist and member of the Manchester Academy of Fine Arts.
My inspiration comes from the recording of images, people and landscapes from my journeys in Spain, Italy, France, India, Sri Lanka and Australia.
I use oils, acrylic and mixed media to evoke the rich colours of Indian and mediterranean landscape. Layers of paint, ink, ochres and mixed media are combined and reformed to create texture and mood. I often use natural yellow ochres collected from the mines in Southern France to evoke heat and colour.
Remnants of medieval cave paintings and frescoes from italy, India and Sri Lanka also play a part in inspiring the works. A certain ambiguity is created. pre concepcions are challenged by using images from my Sri lankan heritage combined with influences from western culture.
current employment: practicing artist in Spain
previous employment:teacher, lecturer of arts; HMI inspector of Art and Design
Qualifications: B.ED First Class honours in Art and Education; Certificate in Education

A selection of exhibitions

The Pankhurst gallery, Manchester
The Hanover gallery, Liverpool
The Black Sheep gallery, North Wales
Meghraj gallery, London
Bhavran centre fot Indian art and culture, London
Picadilly gallery, London
Brian Boyes gallery, Rossendale
Broughton House gallery, Cambridge
Hotel Ibis, Paris
Ktisis Gallery, Liverpool
Stutgart, mixed exhibition with 8 artists from north west England
Olgivy and Estell Gallery, Conway, Wales
Millfield, Somerset, prize winner)
Academy of Art, Liverpool ( prize winner)
St Helens´s College,( prize winner)
Manchester Academy of Fine Arts,
Cortijo Del cerro, Spain
Resaurante Italia,Antequera, Spain
Clinca Dental, Villanueva De La Concepcion, Spain

private collections: America, Spain, England, Sri Lanka, India, Africa, Germany
comments from exhibitions:
"Byzantine Concept in 20th Century Hugely Impressive
Ms. Cook takes the traditional hieratic Byzantine concept, flattened figures in a spatial limbo and reinvents them using late 20th century techniques. The best of them have the authentic, glowing presence and rich colour, despite being densely layered mixtures of all kind of media. The colour and the sensuous delight in the surfaces may well be because of Ms. Cook's Sri Lankan background... ".

Adrian Henri
Liverpool artist and poet

"Nalini's paintings gave me immediate pleasure which has proved long lasting. Her Sri Lankan background is not immediately obvious in her painting, but once one is aware of it, one realises the sources of her unusual colour combinations and symbolic references which appear even in her landscapes and more particularly when she embarks on specifically iconographic works"

Godfrey Pilkington
Piccadilly Gallery, LONDON


Further Comments

"Wonderful textures and glowing colours, I loved it... "

"Rustic and gentle" "Wonderful, evocative and mystical..."

"Beautiful colours and very rich. A very impressive exhibition"

"Surreal, Dali-like quality"

"Beautiful, delicate colour combination "

"The images transcend the passage of time reflecting on history, while being totally relevant to the modern day experience..."

"Rich and exciting images . The exhibition presents a challenging mixture of East and West which has not been seen before"

"superb draughtmanship"