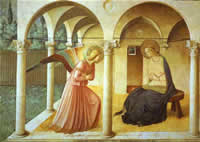 Annunciation. c.1450. Fresco,
230 x 297. Museo di San Marco, Corridor, Florence, Italy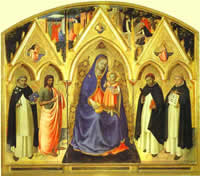 San Pietro Martire Triptych. 1428/29. Tempera on panel.
137 x 168 cm.
Museo di San Marco


Historical Artist - Fra Angelico (1400 - 1455)
Fra Angelico, a early Italian Renaissance painter, was born near Florence as Guido di Pietro and entered the San Domenico monastery in Fiesole in 1418. Fra Angelico used his faith as a catalyst for creating his artistic work with his small paintings similar to illuminated manuscripts but his greatest works were the frescoes at the monastery of San Marco in Florence, which were painted from 1438 to 1445.
Fra Angelico was known in Italy as il Beato Angelico. Within his lifetime or shortly thereafter he was also called Il Beato (the Blessed), in reference to his skills in painting religious subjects
For most of his career Fra Angelico was based in S. Domenico in Fiesole. He and his assistants painted about fifty frescos in the friary (c.1438-45) that are at once the expression of and a guide to the spiritual life of the community. In the last decade of his life Fra Angelico also worked in Orvieto and Perugia, and most importantly in Rome, where he frescoed the private chapel of Pope Nicholas V in the Vatican with Scenes from the Lives of SS. Stephen and Lawrence.
Angelico died in Rome and was buried in the church of S. Maria sopra Minerva, where his tombstone still exists. His most important pupil was Benozzo Gozzoli and he had considerable influence on Italian painting. In the nineteenth century Angelico's painting captured the imagination of the Pre-Raphaelites, who saw in them the charm of a pure faith.