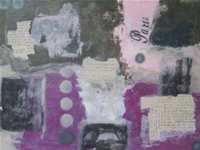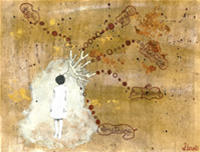 Media - Acrylics, Mixed Media, Photography
Email - [email protected]
Website - http://www.sofiabarao.com
I see my work as wall pieces where layers of paint, papers, drawings and images can be seen as if time had started its work of forgetness, of erasement. The result is a poetic and decay atmosphere.

My work is a reflection of myself. My childhood, the way I see life and death, my woman's life...what I lived and what I live.

I'm attempting to keep a trace, a trace of things experienced; to work with the memories, to reinvent a story, to rebuild a past, maybe my own.

The Woman, in particular, inspires me; I seek her, decorticate her, and invent her. She's part of a whole in my work. I question myself about the relationship between the Woman and time that passes by: through her, on her, with her.

My work is also surely about my quest for my missing part...