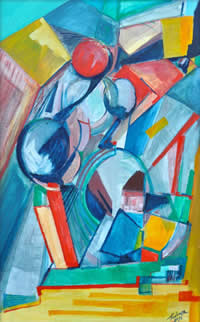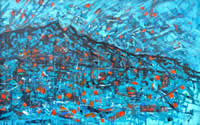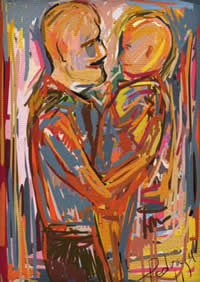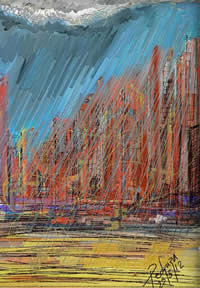 Media - Paintings
Email - lauropedraza@prodigy.net.mx
Website - http://www.lauropedrazart.com/
Lauro Pedraza was born in Monterrey, Nuevo León MÉXICO on August 27th, 1966. He has learnt to think and express visually at an early age and always has had a passion for art.

Lauro took his first drawing and painting classes in Elementary and Junior High School, he started drawing and painting in 1977 and since then he has actively participated in multiple art workshops where he learnt drawing and painting from live models, en plein air, still life and free imaginative and spontaneous subjects using different techniques and media such as pencil, charcoal, acrylic, ink, watercolor, pastel, oil, tempera and encaustic. Lauro has been recently creating spontaneous speed digital paintings-sketches using ArtRage ® on iPad ®.

His most relevant art education has taken place in Monterrey, Nuevo León México at several recognized art institutions such as Escuela Municipal de Arte de Monterrey, N.L. 1980-1985 with Myrna Garcia and Sergio Torres under direction of Hector Carrizosa, Escuela de Artes Visuales UANL¨, Taller de Experimentación Plástica del ICNL 1992-1994 with Efrén Yáñez and Javier Sanchez, Taller de Experimentación Plástica Museo de Arte Contemporáneo (MARCO) 1994-1995 with Fernando Cervantes. Lauro graduated from Instituto Tecnologico y de Estudios Superiores de Monterrey holds a Bachelor of Science Ingeniero en Sistemas Electronicos degree, during this time Lauro took cultural optative History of Contemporary Art class with the recognized Mexican art criticist Xavier Moyssén Lechuga.

Lauro keeps a parallel career in Information Technology and has spent over 23 successful years of his professional life working for Sanyo Manufacturing, Grupo Industrial Alfa AKRA Nylon de México and Fibras Químicas, Hewlett Packard and currently in Oracle.

Lauro's current art work has a lot of energy. Among others, he is influenced by the postimpressionism artists Vincent Van Gogh, Paul Gauguin and Paul Cézanne and, over time, he has developed his own style. He is a versatile colorist painter and considers himself as an always learning low profile artist.
"Painting is the universal language of the soul, emanates from the heart of the artist, has no boundaries and can be understood by all" Lauro Pedraza.