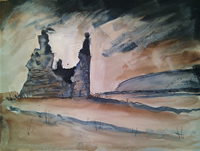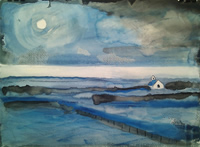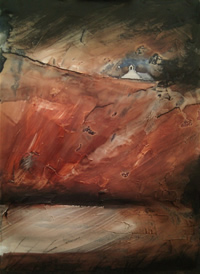 Media - Mixed Media, Ink, Acrylic
Email - cobbybrook@googlemail.com
Website - www.cobbybrook.co.uk
I left school at 16 and joined an engineering firm as an apprentice. I didn't see myself as 'academic' but I was good with my hands – making models and drawing. After nearly ten years on the shop floor I realized engineering wasn't for me and with the support of my wife I went back into education as a 'mature' student. Studying Graphic Design at Leeds Polytechnic my focus was on model-making and 3D film animation. On graduating, however, the industry was in recession and I struggled to find work. I did many projects with schools and other bits of freelance work but nothing paid sufficiently so I ended up working part-time for a charity just to try to make ends meet. By sheer luck I moved into public relations and event management for the same charity and eventually became marketing manager for the local FE college. Once again I realized that I was in the wrong career and joined the railway as a trainee driver. I qualified nearly five years ago and the shifts provide me with time off to myself during the week.
A trip to the Isle of Mull, Scotland, as part of our silver wedding anniversary celebrations last year proved very inspirational and I returned home with the burning desire to try to paint my own interpretation of the landscape. I work in a variety of media, sometimes outdoors 'plein air', in an expressive, gestural response to my environment. I am heavily influenced by the work of artists such as John Piper, Graham Sutherland and Eric Ravilious.