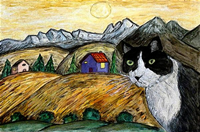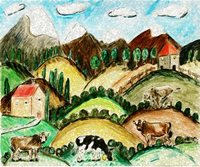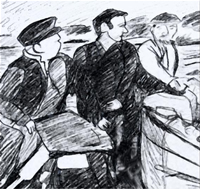 Media - Acrylics, Gouache, Graphic Pen Drawings
Website - http://cafepress.com/monicaengeler
I was born in May of 1962 in New Jersey. I spent my whole life at the same address. Growing up as a child, I only discovered art when I was around 11 years old. At that age, I thought it was just something fun to do. I loved to draw the cartoon figures of Charlie Brown and other cartoons being played at that time. I never thought that one day I would study art, until my college years. Until then I never had any real form of formal training.

I finished high school in 1981, and went on to Johnson State College in Vermont. I didn't start in art when I began my studies. I always wanted to be a sports teacher in high school so for the first three years I studied Phys Ed. I never seemed to find a passion for it in college. I still loved sports and enjoyed to play basketball, volleyball, and softball,. Anyway after three years of studying Phys Ed I tried Education for awhile, but in the end of my third year I discover Art. I took some courses and really found an interest in it. So I made the change once more. It took me two and a half years to finish my studies in Johnson. I finished in December 1986. I new I wasn't ready to face the outside world with the skills I had at the time. I had a great teacher and he encouraged me to go to School Of Visual Arts in New York City. He was a student their too so his presence and reputation made it easy for me to get in. I started right after Johnson in January 1987.

My first year in SVA was a big adjustment. Coming from a small school in Vermont to a large college in New York was overwhelming at first. I fought myself through it. My teachers were incredible there. They were always ready to help you and they never criticized your for not being the best in the class or even the maybe the worst. I think that is what gave me the strength to get through SVA.

I loved to paint, draw in mixed medias, and printmaking. I learned Lithography, Silkscreen, lino cut, and etching. Challenging yes but great mediums to work in.

I finally finished my studies in SVA in 1990 and received a BFA in Fine Arts. I also received the David Rhodes Award for Outstanding Accomplishments in Art.

After college, life changed drastically for me. I tried to develop my art into something productive, but never seemed to find the right answers. A few friends of my parents offered me some assistance for the first few years, but in the end, it just didn't seem to come together. So after some difficult thoughts, I decided to take some computer courses and find an office job to get my career started. I lost such faith in myself, and eventually gave up my art. Here and there I did work on things, but never found it in my heart to try again. I just didn't know what direction to go in.

Two years ago, I found a website called http://www.cafepress.com. I explored the site for awhile, and thought this might be an adventure for me. I signed up with them and created my own shop uploading my art work for sale. I didn't know if anything would come about it, but it has been an inspiration for me and my love for art came back. Cafepress gave me the courage to try again, and I have now learned something about myself. If you love something, never give it up. Never let anybody say stop working because your not good enough. It is only one opinion.