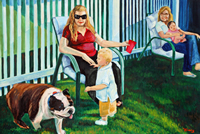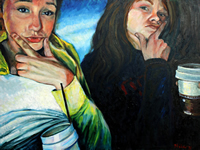 Media - Oil, Mixed Media, Charcoal, Encaustic, Clay
Email - fieldsendart@yahoo.com
Website - www.fieldsendart.com
Finding a wistful beauty in the everyday, Hilary J. England's emotionally charged paintings at once contemplate and celebrate the seemingly mundane moments in life. Sunlight floods England's landscapes and figurative compositions as she paints in oils with an expressively flowing mark. She illuminates her subjects with a sensitive honesty, infusing her works with hope and healing. Returning often to the sea for inspiration, there's a quiet peace in her brushstrokes, a feeling of reflection and rebirth as the world goes on, as eternal as the tides. This almost meditative aspect is connected to a powerful message – following a near fatal accident, England found that she returned to her art reinvigorated with purpose and aware of the hope and support she could give her models and her audience through her work.
Born in Brooklyn, NY and raised on the Staten Island shore, Hilary J. England now lives and works outside the Lehigh Valley in Pennsylvania where she has converted a barn into her private studio.