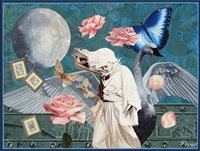 Media - Acrylics, Watercolors, Pastels, Mixed Media
Email - artistixone@aol.com
Website - http.//www.creativegaze.com
My Symbolist Paintings attempt to communicate the complexities, the paradoxes, and the mysteries of life. With an illustrative style, using acrylic for crispness and clarity, small brushes size 0 to size 6, and large canvases, I lose myself in intoxicating and extreme detail.
I strive to express individual emotional experience through the subtle and suggestive use of a highly symbolized language. The symbols are not the familiar use of objects belonging to mainstream conventional imagery, but intensely personal, private, obscure and ambiguous references into both my own mind and that of the viewer.

I invite the intellectual mind, the emotional mind, and the subconscious mind of the viewer to observe collectively. My paintings are for those who like to think, to question, to discover, and to understand.

Through my art work I hope to allow the viewer time for introspection either through stepping back and seeing the mood of the elemental sum, or by coming closer to examine the individual elements one by one.

Nancy Mariah Garrett is a self-taught artist. She was born January 24th, 1958, in Mobile, Alabama. Her family relocated to Pensacola, Florida in 1968 and in 1976 Nancy became a resident of Biloxi, Mississippi.

Creating art and studying art history has dominated her curiosity for as long as she can remember. Nancy began her art career as an airbrush artist on Biloxi Beach. During this time her knowledge of art and application grew and strengthened. The artist was required to render any subject, on the spot, that a customer might request. Nancy also created fine art and illustrations in her home studio.

After airbrushing twelve years she took a leap of faith and began to freelance. Self employed, the artist accepted any commission, among these were commercial ad and billboard layouts, apparel graphics, CD and video jacket illustrations, brochure illustrations, and portraits. Nancy also illustrated a children's book. If the artist was not familiar with the medium or the technique required by a client, she researched the subject and taught herself. This life style cultivated a substantial and versatile education in the art mediums of graphite, pen and ink, watercolor, gouache, pastel and acrylic.