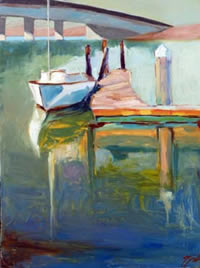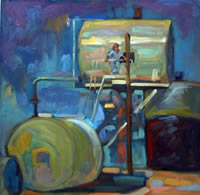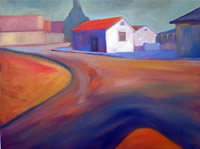 Media - Oil Painting, Gouache, Charcoal Drawings
Website - http://www.smith-dugan.com
Email - sandra@smith-dugan.com
Sandra Smith-Dugan was born, raised and educated in California's San Francisco Bay Area. Her earliest exposure to art came from her mother, a University of California at Berkeley fine arts graduate and accomplished painter. Having grown up with the support of an artistic and creative family, it is no surprise that Sandra has been painting and drawing as far back as she can remember. She earned her Bachelor of Fine Arts degree in painting and drawing from San Jose State University, and then continued her studies at the San Francisco Art Institute, the University of California at Santa Cruz, and at various professional workshops.
She paints in oil on canvas and board with an emphasis on the landscape, urbanscape, and figurative work. Painting en plein air or in the studio, her work is open and expressive and showcases her innate sense of impactful presentation and visual balance. The central elements of her artistic approach have much to do with the characteristic feeling of a chosen subject, be it a scene in nature, an architectural edifice, or a depiction of the human figure. Smith-Dugan looks for the inherent character of her subject, and strives to fully express it. The artist carefully assesses the key effects of light, mood, energy, movement and emotion, and then brings each to her painting effectively through the appropriate use of color, line and composition.
Smith-Dugan's style, which has been through its own evolutionary process, contains the influences of Bay Area Figurative painters Richard Diebenkorn, Elmer Bischoff, Joan Brown, and Wayne Thiebaud. Early in her career, she was impressed by the spontaneous and expressive quality of their work because it was innovative, personal and authentic. Sandra Smith-Dugan's painting style has clearly evolved far from her initial observances of the work of the artists whom she admired. Today, she has fully matured as an artist, and her own unique artistic handprint is characterized by a single-minded dedication to only creating work that satisfies her high standards for composition, painterly execution, aesthetic content, and visual narrative.