St. Patrick's Day is a holiday that is celebrated in honor of the St. Patrick, a Patron Saint of Ireland. Every year on March 17th, people around the world celebrate with parades and parties filled with traditional Irish foods, music, and activities such as wearing green and celebrating with lucky symbols like shamrocks.
While it may not be possible to attend parades or have big celebrations due to Covid-19 restrictions, there are still plenty of family-friendly St. Patrick's Day activities that you can do at home! This guide will provide some ideas on how to celebrate St.Patrick's Day this year while staying safe and having fun!
Decoration Ideas
St Patrick's Day is a holiday that is full of fun and celebrating. Here are some decoration ideas to make your house festive and ready for the holiday.
From shamrock garlands to green mugs and pillows, there are lots of ways to get your home into the spirit of St Patrick's Day. Let's explore some of the best St Patrick's Day decoration ideas you can use to bring the celebration to your own home.
DIY St. Patrick's Day Wreaths
St. Patrick's Day is fast approaching and there are a variety of ways to decorate your home in celebration. If you're looking for a festive way to get into the spirit, why not craft a DIY St. Patrick's Day wreath? Wreaths are a classic decoration and with just a few items you can easily make your own. Here are some tips and ideas to get you started.
One of the easiest ways to put together a fun St. Patrick's Day wreath is to start with an artificial evergreen wreath as the base. This will allow you to use the same wreath for years and years with only needing an update in decorations each year. To decorate, try using items such as silk ivy, felt shamrocks, dainty ribbon or fabric strips, colorful buttons, faux flowers, etc.. You can also add shimmery garlands or strands of beads if desired! When attaching any embellishments make sure they aren't too heavy or they may pull on the evergreen branches and pull them down over time – consider hot glue or clips depending on what material you use.
Adding fun sayings like "Kiss Me I'm Irish" or "Lucky You" around your wreath can add a personal touch and help complete the look. Once finished you can hang your festive creation on your front door or anywhere else that could use some St Patrick's day cheer! Have fun while crafting – there is no wrong way to decorate this traditional symbol of luck!
DIY St. Patrick's Day Garland
Greet St. Patrick's Day with a festive, bright and cheery DIY garland that can be hung from walls and doorframes in your home. With just a few supplies and a little elbow grease, you can make this simple decor that looks really sharp.
To make your own DIY St. Patrick's Day Garland, start by gathering the following supplies:
-Green balloon; approx 12″ in size -Cutter or scissors – String or twine of your choice – Green tissue paper (at least 4 full sheets) – Tape measure
Begin by inflating the green balloon to 12 inches in diameter, tying off the end and securing it with some tape – just to ensure it won't pop while cutting it up later on. Keeping it inflated helps keep the shape of your globe intact while cutting. Once all set and secure, move onto the next step.
Next, cut four circles from each sheet of green tissue paper – use a ruler to trace four 6 inch circles for each sheet if desired for accuracy. You will end up with 16 circles total when all finished if doing 4 sheets of tissue paper! When completed, begin piecing together row 1 by taping all 4 circles together one after another until connected as one big fluffy piece as shown below (use small strips of tape as needed). Continue these steps until you have created 8 sections of your garland – 4 full round pieces and 4 half round pieces to fit nicely around corners – hang!
Now that you have everything cut out and taped together (including the balloon!) there are only two more things left to do: 1) add twine/string of your choice for hanging & 2) Cut away at the excess edges all around so none appear on display when hung – achieving that smooth surface look as shown below. Gently wrap string/twine at least twice around entire circumference if possible when finished–making sure both ends stick out for hanging later! Et voila! You're ready to hang up this beautiful addition to your seasonal decor– enjoy!.
DIY St. Patrick's Day Table Centrepieces
Make your own beautiful and festive St. Patrick's Day table centrepieces with some easy-to-find items from the local craft store, or with items you already have in the house. St. Patrick's Day is a perfect time to decorate and be creative! Here are some DIY centrepiece ideas to get you started:
1. Pot O' Gold – Grab an old tin pot or pail from your recycling bin, secure it to a flowerpot saucer with glue and then fill it with mini banners, greenery, candy coins, little pots of gold and rainbow confetti for a cute Pot O' Gold decoration centerpiece.
2. Shamrock Hydrangeas – Gather together greenhouse hydrangeas into one large clump of greenery on which to hang colourful wooden shamrock shapes. If you don't have enough hydrangeas handy in the garden, artificial ones will do just fine! This will be an eye-catching decoration sure to impress your dinner guests!
3. Spring Wreath – Create a unique wreath made with tissue paper shamrocks, fun ribbons and cheerful little flags that say "Happy St Patricks day". Hang this one displayed proudly over your mantel or as an adorable centerpiece for your next dinner party!
4. Glittery Shamrocks – Decorate small terra cotta pots using frosted glass spray paint and glittery green paint; when they're dried add some twine ties if desired and lay four painted lime green foam shamrocks into each pot for display at the top of the table setting as a favour centrepiece everyone can take home as a keepsake memory of the eventful day!
These easy DIY table decorations are sure to bring extra luck and good vibes to any celebration this St Patrick's!
St. Patrick's Day Activities to do at Home
St. Patrick's Day is a fun event that's celebrated around the world each year. If you're stuck at home, there are still plenty of fun activities you can do to celebrate. From DIY crafts to delicious snacks, there are plenty of ways to bring the luck of the Irish into your home this St. Patrick's Day.
St. Patrick's Day Scavenger Hunt
Celebrate St. Patrick's Day with an Irish-themed scavenger hunt. Your hunt can be as elaborate or as simple as you'd like, covering the entire house or focusing on one small area such as a single room. Gather clues from all over the house, bathrooms, rooms and even outside. For added fun, get your children to come up with the clues themselves!
For example – Clues could include items that are green in color or have an Irish theme, like shamrocks and pots of gold. You could also make St. Patrick's Day themed crafts or activities along the way such as making a rainbow, counting coins to make a leprechaun's pot of gold, sprinkling shamrock confetti around the room or hides places for prizes and treats in each location you visit!
Finish off your scavenger hunt with a traditional Irish feast complete with corned beef & cabbage, soda bread and Shepherd's pie—it will certainly be a day to remember!
St. Patrick's Day Games
Celebrate St. Patrick's Day with some fun and festive games! Whether you are hosting a party or just looking for fun activities to do with your friends and family, St. Patrick's Day games are an ideal way to get into the spirit and spread some extra luck.
From easy guessing games to crafty DIY races, there is something for everyone. These St. Patrick's Day themed games are enjoyable for kids of all ages and are sure to add an element of excitement to any holiday celebration.
St. Patrick's Day Games: -Shamrock Scramble: Players must race against each other (or the clock) to match their letter tiles in order to spell all the words associated with St. Patrick's Day, such as 'shamrock' or 'Ireland'. -Leprechaun Limbo: How low can you go? Players must try their hand at limbo while wearing a stuffed leprechaun on their head (or have players hold it up behind them). The player who leans the lowest without touching the ground is declared the winner! -Find The Gold: Fill small colorful pots with gold foil coins, chocolate coins or even pieces of cereal tinged in food coloring; then hide them around the house or backyard for players to find through scavenger hunt clues – whoever finds the most gold wins a special prize! -Shamrock Tag: This classic game of tag gets a festive twist when played on St.Patrick's day – players must stay on one team until they receive a shamrock (made from green construction paper) from one of the other teams – once they receive a shamrock, they then join that team! -Pot Of Gold Bowling: Set up empty bottles in front of each target area; if a player knocks over one bottle on their turn, it counts as two points instead of one! This game can be adapted for younger children by using foam balls that stick together when stuck with Velcro instead of bowling balls; then gently set up empty bottles near each other in order for them to be grouped together when hit – this makes it easier for kids and still provides an exciting challenge!
St. Patrick's Day Crafts
St. Patrick's Day provides many fun activities to enjoy with family and friends. With the use of just a few supplies, you can create festive crafts with your loved ones at home! Whether you decide to make some classic four-leaf clovers or colorful decorations for the holiday, there are many different St. Patrick's Day crafts that the whole family can participate in.
Four-Leaf Clovers: Creating four-leaf clovers is one of the most classic activities for St. Patrick's Day! Use green paper or felt and scissors to cut out your own clover shapes of varying sizes. Alternatively, if you have perforating tools, you could use them to create clover patterns in any kind of paper before cutting it out with scissors. You can even get creative by adding bright colors and accents such as sparkles or ribbons to your designs for extra pizzazz!
Decorations: Make festive decorations for St. Patrick's Day using basic materials like construction paper and markers in varying shades of green, yellow, white and black. Draw shamrocks on the construction paper, then glue them together into a banner or wall decoration that you can hang up in your home for a little extra leprechaun luck this holiday season! Another great idea is creating custom greeting cards for friends and family members that feature traditional symbols associated with St. Patrick's Day including shamrocks or rainbows with pots of gold at their ends!
There are countless other craft projects that fit perfectly into this fun holiday season- so why not get creative and crafty on St. Patrick's day? Have some fun making simple decorations or organizing competitions among friends and families who see who can make the best four-leaf clover masterpiece! Whichever way you decide to go – have a wonderful time doing it!
Food
With St. Patrick's Day just around the corner, it's time to start planning your festivities. Cooking is one of the best ways to celebrate the day, and there are plenty of delicious recipes to choose from.
From Irish soda bread to shepherd's pie, there's something for everyone to enjoy. Let's take a look at some of the best St. Patrick's Day recipes to do at home.
Irish-Inspired Recipes
St. Patrick's day might look a little different this year, but that doesn't mean you can't still celebrate the traditional Irish holiday! Fill your home with the delicious smells of traditional Irish recipes – from Shamrock Milkshakes to Irish Stew and Bacon & Cabbage. Put your apron on and get ready to enjoy the feel of an authentic Irish feast while creating fun, family-friendly memories.
Shamrock Shake: Get the St. Paddy's party started with a festive spin on an old classic – a Shamrock Shake! This liquid version of chocolate mint cookies includes sugar, milk, chocolate syrup, peppermint extract, ice cream and whipped cream.
Irish Stew: For those who are after something more savory than sweet why not try the classic Irish favorite – stew? Usually consisting of beef or lamb, potatoes and onions in either stock or Guinness beer; this is a comforting dish that will fill you up in no time at all!
Soda Bread: This quick bread is as easy to make as it is tasty. With just four simple ingredients (flour, baking soda/powder, sour milk/yogurt and salt) it won't take long to throw together one of these rustic loaves! Perfect for strawberry jam toast in the morning or buttery scones for tea time in the tin.
Corned Beef & Cabbage: A quintessential St Patrick Day dinner inspired by centuries-old recipes! Mimic tastes from Ireland by heating corned beef brisket or short ribs with generous amounts of spices like celery seed and mustard powder before simmering it all up with cabbage wedges in beer!
Colcannon: Make sure everyone comes round to dinner with this delicious side dish that combines mashed potatoes with hearty green cabbage (or kale!), gems of garlic sausage chunks and creamy butter – perfect served alongside any meat dish.
Shepherd's Pie: Comfort food at its best – start by sautéing tasty mincemeat before layering over buttery mashed potato topped golden brown in minutes under your oven grill; top it off then scatter over grated cheese – bliss!
Green Desserts
When it comes to celebrating St. Patrick's Day, there is no better way to show your Irish pride than by cooking up some delicious green-themed desserts! From cupcakes and cookies made with green fondant and wafer paper, to creative parfaits and chocolates, these recipes are sure to make your St. Patrick's Day celebration extra special. Whether you're looking for something quick and simple or a more ambitious project, there's something on this list of yummy treats for everyone!
Green Cookies: These easy-to-make sugar cookies are the perfect way to add a festive flair to any St. Patrick's Day celebration. All you need is a basic sugar cookie recipe and some food coloring to create an edible shamrock that will be the talk of the town!
Mint Chocolate Cupcakes: A classic cupcake recipe topped off with green butter cream frosting and mint chips makes a truly festive St. Patricks day treat! This delectably sweet treat is sure to be a hit at family gatherings or friendly get-togethers.
Green Rice Crispy Treats: Add a touch of Emerald Isle zing with this classic sticky treat. Simply add some food coloring when melt the marshmallows for that perfect pops of color! You can also top them off with fun holiday-themed sprinkles or edible shamrocks for extra pizzazz.
Parfait Surprise: Try these layered desserts as an intriguing surprise – instead of just having one single flavor, various layers can add interest and texture in every spoonful! Choose lighter shades like lime ice cream or lime yogurt on the inner layers, while darkest shade should appear on top layer like a rich pistachio ice cream or sherbet.. This fun snack will surely have your guests guessing what's in store next time they take a scoop!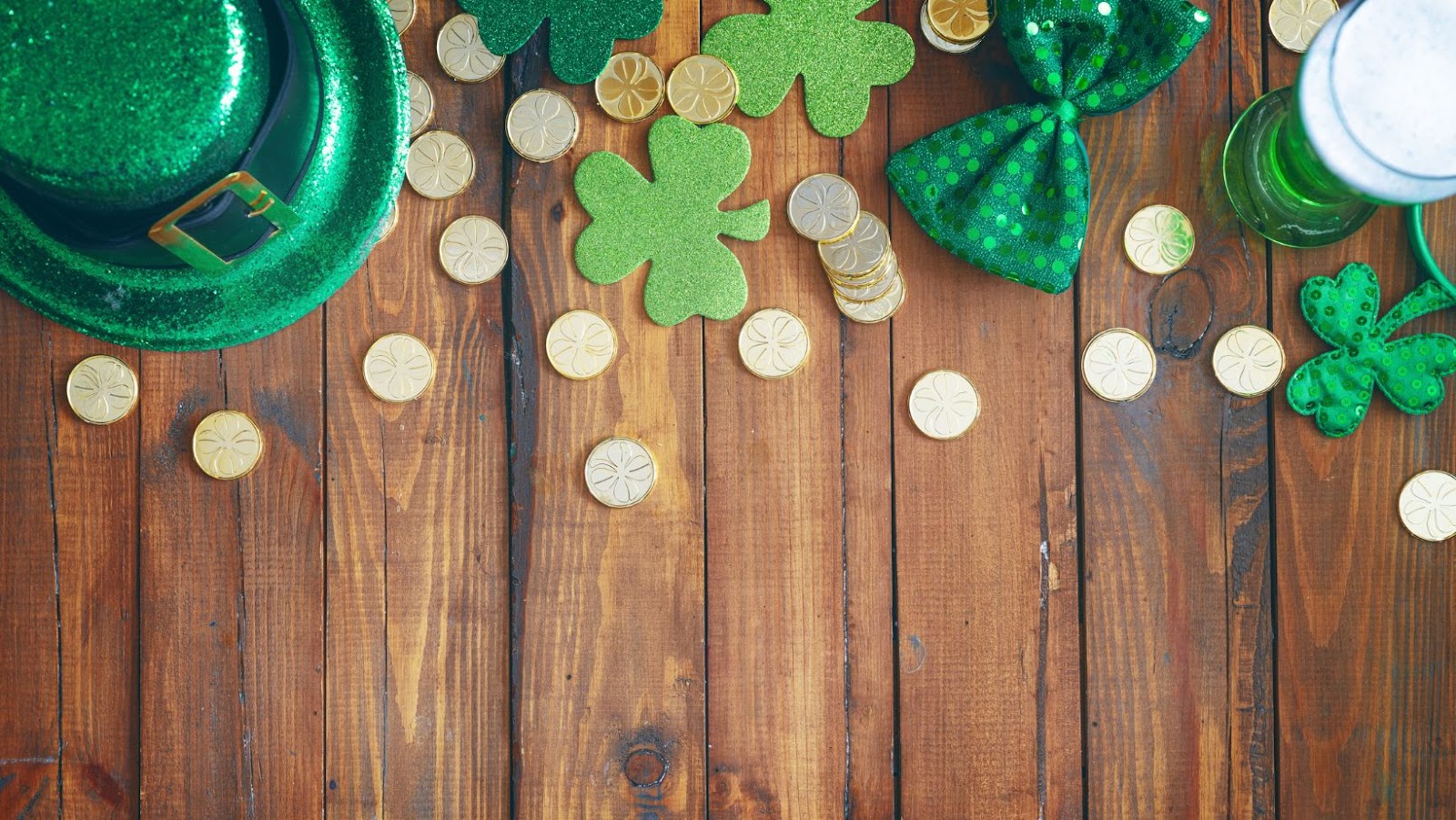 Green Gelatin Delight: Enjoy silky smooth gelatin flavors made even more delicious when topped with whipped cream dyed in different shades of green – from pastel through emerald hues – creating an enticing visual presentation as well as taste sensation for friends old & new alike!
Conclusion
By celebrating St. Patrick's Day at home, you and your family can have fun while staying safe. From making your own decorations to having a virtual party with nearby friends, it is easy to bring the holiday spirit into your own four walls. You could also choose activities which focus on spreading positivity, such as writing thank-you cards or making cards for local nursing homes.
Embarking on a little Irish themed reading or crafting projects or trying traditional recipes are activities which can be enjoyed indoors. So why not make this St. Patrick's Day one to remember!