Art Galleries in South Africa - South African Art Galleries
Art Galleries > South African Art Galleries
Alphabetical List of Art Galleries in South Africa
Click on a letter below to view information on South African art galleries beginning with that letter
Art Galleries in South Africa by Province
South Africa has many world class art galleries throughout its nine provinces with Gauteng and Western Cape featuring the highest concentration of art galleries.
South African art Galleries by Towns
Johannesburg and Cape Town houses some of South Africa's most important and biggest art galleries with rural towns such as Kimberley, and coastal towns such as Hermanus catering more for the tourist markets.
Featured South African Art Galleries
Art Photography Gallery - Art Gallery in Cape Town, South Africa - We are an international fine art photography gallery specializing in high quality, unique photographic prints for collectors as well as interior decor and design projects. Our collections include; landscape, wildlife, tribal portraiture, abstract as well as urban and pop art. Whether you are looking for limited edition African art or decor prints, we can most certainly assist...

Tru Colour Art Gallery - "Tru Colour Art Gallery" is our RECENTLY LAUNCHED ONLINE ART GALLERY whereby we as proudly South African Artist display all of our past and most recent artworks FOR SALE AND SOLD. It's a partnership of two Contemporary, PROUDLY South African Artists Nolan Allnutt & Mtini), that endeavours to express the bright "Tru Colour" of South Africa's Heritage. Our art reflects just that...
South African Art Galleries
The visual arts have a rich history in South Africa and South Africa's art galleries as much to offer to its visitors. The South African National Gallery is commonly seen as South Africa's flagship art gallery. The gallery falls under the umbrella of Iziko Museums of Cape Town, as do the historical Michaelis, William Fehr and Natale Labia collections. The National Gallery's permanent collection spans the colonial to the contemporary, with its first works acquired in 1871.
South African universities play an important role in acquiring works of national interest, with substantial collections housed at the Gertrude Posel Gallery at Wits University and the University of South Africa gallery in Pretoria. There are also several corporate collections of national interest,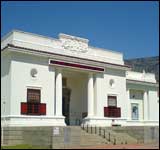 including those of Standard and Absa banks and the cellular phone network MTN.
South Africa has a wealth of commercial and non-commercial galleries. Most of these galleries host solo and curated group exhibitions that change regularly, often on a monthly basis. One of the better known gallery is the Goodman Gallery in Johannesburg, run by art dealer Linda Givon, whose stable includes many of the South African artists who are making an impact on the international art scene.
South African Art Gallery Owners
Join our website and expose your art gallery to people throughout the world. Listing your art gallery is completely free. Click here to add your art gallery