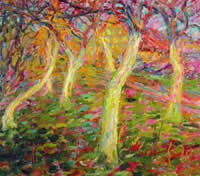 White Tree Trunks, 1908.
Oil on canvas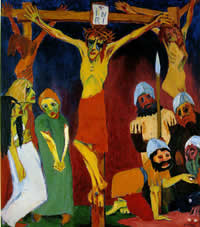 Crucifixion, 1912
Oil on canvas

Historical Artist - Emil Nolde (1867 - 1956)
Emil Nolde was born as Emil Hassen and trained as a woodcutter in Nolde, Germany. He later took the name of his birthplace instead of going by his family's name. Emil Nolde is known for his vigorous brushwork and expressive choice of colors. Golden yellows and deep reds appear frequently in his work, giving a luminous quality to otherwise somber tones. His watercolors include vivid, brooding storm-scapes and brilliant florals.
Emil Nolde was raised on a farm; his parents, devout Protestants, were Frisian and Danish peasants. Between 1884 and 1891, he studied to become a carver and illustrator in Flensburg. Emil Nolde spent his years of travel in Munich, Karlsruhe and Berlin. From 1906 to 1907 he was a member of the artist group Die Brücke.
Emil Nolde was a supporter of the Nazi party from the early 1920s, having become a member of its Danish section. He expressed negative opinions about Jewish artists, and considered Expressionism to be a distinctively Germanic style.
However Hitler rejected all forms of modernism as "degenerate art", and Emil Nolde's work was officially condemned by the Nazi regime. Until that time Emil Nolde had been held in great prestige in Germany. Over 1000 of his works were removed from museums and hee was not allowed to paint after 1941. Nevertheless, during this period Emil Nolde created hundreds of watercolors which he called them the "Unpainted Pictures".
After World War II, Emil Nolde was once again honoured, receiving the German Order of Merit, the country's highest civilian decoration. Apart from paintings, Emil Nolde's work includes very many prints, often in color and watercolor paintings of various sizes, including landscapes, religious images, flowers, stormy seas and scenes from Berlin nightlife.