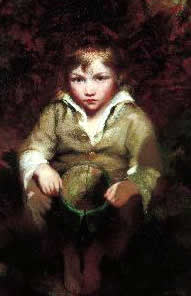 The Cornish Beggar,
John Opie


Historical Artist - John Opie (1761 - 1807)
John Opie was born at St Agnes near Truro in Cornwall. He displayed artistic talent at a young age and was first discovered by John Wolcot. In 1781, Wolcot started Opie's career in London, marketing him as a naïve genius under the nickname, "The Cornish Wonder." Opie painted portraits and other paintings in a style similar to that of Rembrandt. John Opie caused a sensation; the carriages of the wealthy blocked the street in which the painter resided, and for a time his portraits were very sought after, but this level of popularity did not last long.
In 1786 John Opie exhibited his first important historical subject, the "Assassination of James I", and in the following year the "Murder of Rizzio", a work whose merit was recognized by his immediate election as associate of the Royal Academy, of which he became a full member in 1788. He was employed on five subjects for John Boydell's Shakespeare Gallery; and until his death, his practice alternated between portraiture and historical work.
His later work was uninspired and repetitive. In 1805, John Opie became a professor of painting at the Royal Academy and his lectures were published in 1909 after his death. John Opie also produced history paintings for Boydell's Shakespeare Gallery.
Contemporary United Kingdom Artists
Art Galleries in the United Kingdom