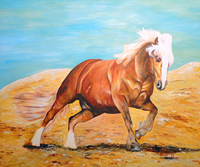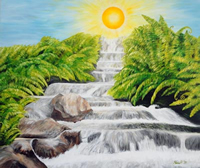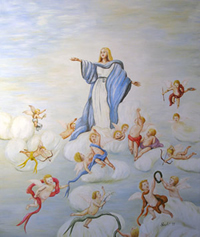 Media - Pencil, Watercolor, Acrylic, Oil
Website - www.szendi.at
Szendi Werner (born in 1966 in Guessing, Austria) currently lives and works in Vienna. He discovered his artistic talent at the age of 16. The creation of several sacral paintings for churches familiarized him early on with the techniques of the Old Masters. He uses pencil, watercolor, acrylic, oil, gold leaf, stones, as well as mental and spiritual energies for his works.

After intensive chromatic studies, he is enthralled with the opportunities to influence people by choosing the correct colors. With his commissioned works, he fulfills individual needs regarding special color and energy, as well as environmental requirements to bring about specific changes.

His light and shadow technique imparts a unique atmosphere of harmony and peace to the paintings. Spheres have a special effect for him, with him gladly introducing them instinctively into his paintings as magical elements. The sphere is a symbol of the universe and is cultural at the same time, for example as an orb symbol of power on Earth - our planet.

Through his paintings, he wishes to express his deep feelings for freedom, peace, love and healing in the world.

Paintings that touch mind and soul:
"In search of the secret of creation, which should deeply touch people's souls, I discovered that I should not confine myself to the level of my five senses. I not only portray what I see with my two eyes, but also what I see through my emotional eye. To create an eternal, remarkable work of art and to be a true creator, I combine with the divinity, taking elements from it and giving these to my works. Prayer, meditation and contemplation are resources for creative work. The works of art created in this manner reflect a healing energy on the soul of the beholder."