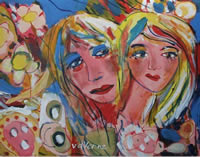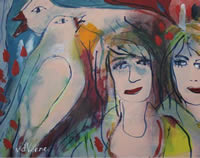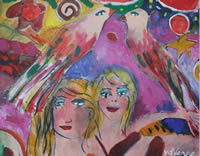 Media - Acrylics, Photgraphy, Mixed Media
Address - geerstraat 250, 6411NW Heerlen
Phone - 045 5714855
Email - [email protected]
Website - www.jacquelinevandervenne.nl
Jacqueline van der Venne has studied both graphic and advertising design, illustrative arts, and photography. In 1987, she graduated from the Art Academy in Maastricht, and has since seen several years of steady employment in the field of graphic arts and design. Since 1982, Jacqueline has exhibited her work both in The Netherlands and abroad.

Her work includes photography, paintings on canvas and drawings on paper, strongly combined with the use of new media. Jacqueline works as an artist, graphic designer, photographer, web designer and lecturer in art & design. In 2005, she earned her teaching degree and has taught at both primary and secondary school, where she offered courses in drawing, arts & crafts and CKV (arts and cultural education).

People in all possible aspects are central to her work, in which she searches for the ultimate shapes and colours to make her art vibrant and dynamic. Beauty is the essence of her art, and communication through it is her main theme. Jacqueline finds that a successful work of art is one that evokes feelings that may be either positive or negative.

Jacqueline van der Venne lives and works in the Netherlands.